I'm on the other side of the race in Daytona. On my way home. And the thoughts keep flying. For me, it's hard to come up with a real race story this time – because it has so many pages. I have to try anyway …
On the one hand, I am completely disappointed. That's the athlete in me who's talking. My result was anything but what I wanted. I didn't end up performing at the best possible level.
On the other hand, I knew very well that that would be the result. The track and the distance were way too short for someone like me. And at the same time, I was not just fighting against others who felt that way. I struggled against others who were the best in the world at this distance.
Right now, I'm spending all my energy on reminding myself of my goal set before I left. I set out to get a race on the list in 2020, to support PTO – the new professional triathlon association, and to have a great experience on the racetrack in Daytona. All that I got! – and more. I have to remember to be happy with that. Although one can never stop hoping for a miracle when competing in sports. Which I believe I did.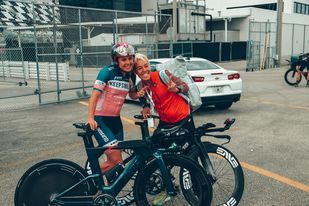 Right now, I'm fighting with everyone else's thoughts of me. They now look at me and think: We were right – she will never return to the top level. It hurts! But hey – in the end there is only one person to decide. And I'm going to decide that they are not right.
Now I want to spend the next few weeks and Christmas as well on analyzing everything that has happened. I'm no longer in control of when I can get a start number on again on my favorite distance and top perform. It's Corona. Hopefully it will be over soon, and I will start again. But one thing is for sure: Hawaii will be Hawaii in 302 days. And then I´ll prove I'm right.
Keep Smiling
Michelle Vesterby